Saturday, March 16, 2002
Yes, I am Fred the Frog.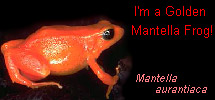 These frogs occur in several colour forms, each confined to very small locations within the eastern quadrant of Madagascar. They like their habitat with temperatures around 68 - 70*F and high humidity. This species is very showy in captivity preferring elevated positions out in the open. Males are generally smaller, slimmer and more angular in build than females and not as vocal as other species of mantellas. Females can produce eggs at a rate of once every two months given proper care.
0 Comments:
The Journal
---
A miscellany of topics that intersest me: deaf culture, game design, politics as soap opera, the cyborg condition and the experience of learning to hear again. Other topics presented are speculative fiction and imaginary cities. There are appearences of snippets of work in progress, public rants, pointless posts and Mish the Mouse.
---
The Writer
A lower middle class cyborg living an innocous life in a suburban village near Newcastle On Tyne, in the United Kingdom. Mostly autobiographical and creative notes posts and musings on the topic du jour.
Archives
05/01/2001 - 06/01/2001
06/01/2001 - 07/01/2001
07/01/2001 - 08/01/2001
08/01/2001 - 09/01/2001
09/01/2001 - 10/01/2001
11/01/2001 - 12/01/2001
12/01/2001 - 01/01/2002
01/01/2002 - 02/01/2002
02/01/2002 - 03/01/2002
03/01/2002 - 04/01/2002
04/01/2002 - 05/01/2002
05/01/2002 - 06/01/2002
06/01/2002 - 07/01/2002
07/01/2002 - 08/01/2002
08/01/2002 - 09/01/2002
09/01/2002 - 10/01/2002
10/01/2002 - 11/01/2002
11/01/2002 - 12/01/2002
12/01/2002 - 01/01/2003
01/01/2003 - 02/01/2003
03/01/2003 - 04/01/2003
05/01/2003 - 06/01/2003
06/01/2003 - 07/01/2003
07/01/2003 - 08/01/2003
08/01/2003 - 09/01/2003
09/01/2003 - 10/01/2003
11/01/2003 - 12/01/2003
12/01/2003 - 01/01/2004
01/01/2004 - 02/01/2004
02/01/2004 - 03/01/2004
06/01/2004 - 07/01/2004
07/01/2004 - 08/01/2004
09/01/2004 - 10/01/2004
10/01/2004 - 11/01/2004
11/01/2004 - 12/01/2004
12/01/2004 - 01/01/2005
01/01/2005 - 02/01/2005
02/01/2005 - 03/01/2005
04/01/2005 - 05/01/2005
05/01/2005 - 06/01/2005
07/01/2005 - 08/01/2005
08/01/2005 - 09/01/2005
09/01/2005 - 10/01/2005
10/01/2005 - 11/01/2005
11/01/2005 - 12/01/2005
01/01/2006 - 02/01/2006
02/01/2006 - 03/01/2006
05/01/2006 - 06/01/2006
07/01/2006 - 08/01/2006
08/01/2006 - 09/01/2006
09/01/2006 - 10/01/2006
12/01/2006 - 01/01/2007
01/01/2007 - 02/01/2007
02/01/2007 - 03/01/2007
08/01/2007 - 09/01/2007
09/01/2007 - 10/01/2007
12/01/2007 - 01/01/2008
06/01/2008 - 07/01/2008
08/01/2008 - 09/01/2008
01/01/2010 - 02/01/2010
04/01/2011 - 05/01/2011
09/01/2012 - 10/01/2012
10/01/2012 - 11/01/2012
Links
Videogame Theory
---
Apolyton
---
Game Matters
---
Common Ground Sign Dance
---
Krazy Kat Theatre
---
Computing for Poets
---
The Langauge Construction Kit
---
Lemonodor: mostly Lisp
---
Twisted Matrix
---
Christopher Jam
---
Shrydars Blog
---
Linux Game Development Centre
---
Starlines
---
The Rise and Fall of My First Novel
---
Real Writers Bounce
---
Mela (designer of this blog)
---
CyberTarp
---
Mish The Mouse's Blog
---
---
News Feeds
---
Technorati
Blogroll
Adverts